Efektifitas Metode Belajar Melalui Video Tutorial Dan Tatap Muka Dalam Bahasa Inggris Di Perguruan Tinggi
Keywords:
Video Tutorial, Tatap Muka, Canva, Interaktif, TIK
Abstract
Penelitian ini bertujuan untuk mengetahui efektifitas pemanfaatan video tutorial sebagai media alternatif sistem pembelajaran menggunakan teknologi, dibanding belajar secara tatap muka, yang dilaksanakan di sebuah universitas swasta di Jakarta Selatan. Pembelajaran menggunakan bahasa inggris, baik penyampaian melalui video tutorial maupun secara tatap muka. Peserta berjumlah 47 orang mahasiswa strata satu ilmu komunikasi yang kerap kali menggunakan aplikasi Canva sebagai pendukung tugas-tugasnya di kampus, baik untuk materi presentasi maupun pembuatan desain di media sosial. Penelitian ini dilakukan terhadap dua kelas, yakni kelas yang belajar pemanfaatan Canva melalui video tutorial dan kelas yang belajar Canva secara langsung dengan pengajar di kelas secara tatap muka. Mahasiswa diberikan kuesioner usai pembelajaran dilakukan untuk mendapat gambaran hasil penyerapan dan pemahaman terhadap Canva selama belajar. Pengukuran dilakukan dengan melihat relative advantage, compatibility, complexity, triability, dan observability. Hasil penelitian menunjukkan bahwa mahasiswa yang belajar secara tatap muka walau bisa bertanya secara langsung, nilai yang diperoleh sebesar 79,11%. Nilainya tersebut tidak setinggi yang belajar menggunakan video tutorial sebesar 82,10%. Penggunaan alat TIK video tutorial juga efektif dalam mempermudah mahasiswa belajar, karena memungkinkan mereka untuk mengulang berkali-kali materi video bila dirasa kurang jelas. Semua tahapan pendekatan membantu mahasiswa meningkatkan keterampilan baik dalam penggunaan alat teknologi maupun belajar secara langsung yang memungkinkan mereka untuk menyerap ilmu pengetahuan dan teknologi.
References
An, D., & Youn, N. (2018). The inspirational power of arts on creativity. Journal of Business Research, 85, 467–475. https://doi.org/10.1016/j.jbusres.2017.10.025
Batubara, H. H., & Batubara, D. S. (2020). PENGGUNAAN VIDEO TUTORIAL UNTUK MENDUKUNG PEMBELAJARAN DARING DI MASA PANDEMI VIRUS CORONA. Muallimuna : Jurnal Madrasah Ibtidaiyah, 5(2), 21. https://doi.org/10.31602/muallimuna.v5i2.2950
Brockfeld, T., Müller, B., & de Laffolie, J. (2018). Video versus live lecture courses: a comparative evaluation of lecture types and results. Medical Education Online, 23(1). https://doi.org/10.1080/10872981.2018.1555434
Canva (2020). Empowering the World to Design. https://www.canva.com/about/
Churiyah, M., Basuki, A., Filianti, F., Sholikhan, S., & Fikri Akbar, M. (2022). Canva for Education as a Learning Tool for Center of Excellence Vocational School (SMK Pusat Keunggulan) Program to Prepare Competitive Graduates in the Field of Creativity Skills in the Digital Age. International Journal of Social Science Research and Review, 5(3), 226–234. https://doi.org/10.47814/ijssrr.v5i3.228
Freeman, R. E., Dunham, L., Fairchild, G., & Parmar, B. (2014). Leveraging the Creative Arts in Business Ethics Teaching. Journal of Business Ethics, 131(3), 519–526. https://doi.org/10.1007/s10551-014-2479-y
Kumins, N. H., Qin, V. L., Driscoll, E. C., Morrow, K. L., Kashyap, V. S., Ning, A. Y., Tucker, N. J., King, A. H., Quereshy, H. A., Dash, S., Grobaty, L., & Zhou, G. (2021). Computer-based video training is effective in teaching basic surgical skills to novices without faculty involvement using a self-directed, sequential and incremental program. American Journal of Surgery, 221(4), 780–787. https://doi.org/10.1016/j.amjsurg.2020.08.011
Lamontagne, C., Sénécal, S., Fredette, M., Labonté-LeMoyne, É., & Léger, P. M. (2021). The effect of the segmentation of video tutorials on User's training experience and performance. Computers in Human Behavior Reports, 3. https://doi.org/10.1016/j.chbr.2021.100071
Lusiana, M., Yupelmi, M., & Hayatunnufus, H. (2022). Pengembangan Media Pembelajaran Video Tutorial Mata Kuliah Tata Rias Pengantin Barat. EDUKATIF : JURNAL ILMU PENDIDIKAN, 4(2), 2772–2777. https://doi.org/10.31004/edukatif.v4i2.2470
Manasrah, A., Masoud, M., & Jaradat, Y. (2021). Short Videos, or Long Videos? A Study on the Ideal Video Length in Online Learning. 2021 International Conference on Information Technology (ICIT), 366–370. https://doi.org/10.1109/ICIT52682.2021.9491115
Narimawati, Umi. (2010) Metodologi Penelitian : Dasar Penyusun Penelitian Ekonomi. Jakarta : Genesis.
Widoyoko. (2009). Evaluasi Program Pembelajaran. Yogyakarta: Pustaka Pelajar
Rogers, E. M. (2003). Diffusion of innovations 5th edition. In Free Press.
Whiting, K. (2020). The Future of Jobs Report 2020.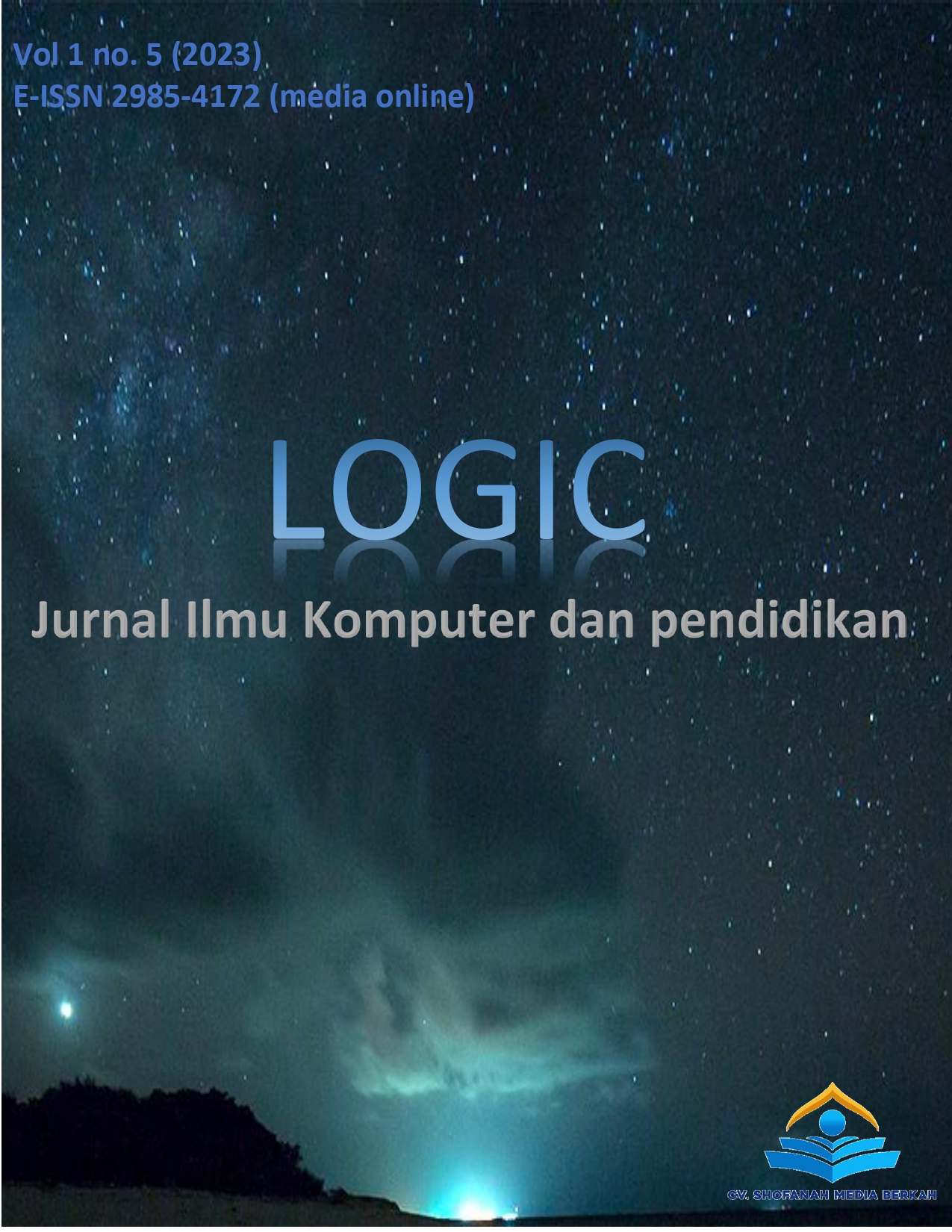 Downloads
How to Cite
Fachmi Ibrahim, & Lymbarski Caesariano. (2023). Efektifitas Metode Belajar Melalui Video Tutorial Dan Tatap Muka Dalam Bahasa Inggris Di Perguruan Tinggi. LOGIC : Jurnal Ilmu Komputer Dan Pendidikan, 1(5), 1297–1304. Retrieved from https://journal.mediapublikasi.id/index.php/logic/article/view/3474